Hardware expert ⚡ VR/AR, Motion capture, 3D & Accessories
Recycling & Green E-Commerce 🍃
French company in Bordeaux 🌞
Perception Neuron 3 suit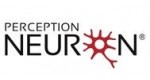 Product details
Features
Type

Suit

Operating time (battery)

5 hours

Tracking system

Inertial
Motion capture suit PN3
The latest Perception Neuron 3 suit straight from Noitom.
Small but powerful
The Perception Neuron 3 is the smallest motion capture system based on an IMU sensor that supports your entire body. The PN3 allows you to record motion data anywhere without any space, lighting or environmental constraints.
Nomadic in nature
Perception Neuron 3 is completely wireless and can be used in any conditions. Indoors or outdoors, with no occlusion, no camera and no line of sight restrictions. With a new algorithm, software and API, Perception Neuron 3 offers a robust solution for independent and professional filmmakers, animators, researchers, performers and educators.
Designed to be portable, Perception Neuron 3 comes in a travel-sized EVA case, making it easy to capture on the go. Free yourself from the constraints of being able to mocap anywhere you want.
The PN3 charging stations are designed to hold and charge all six sensors at the same time. Once the sensors' batteries are full, the charging session ends automatically.
Perception Neuron 3 offers high precision finger tracking. Its unique design gives all designers the ability to make professional quality captures.
Minimum system requirements for Perception Neuron 3
OS: Windows 10
Direct X9
OpenGL 4.4
CPU: 3.0 GHz i5 processor
RAM: 4GB of memory
Hardware included in the PN3 Body Kit
PN3 Body Sensors (17)
PN3 Spare Sensor (1)
PN3 USB Transceiver (1)
Body Straps (1 set)
Charging Docks (3)
Axis Studio License dongle (1)
USB-A to USB-C cable (3)
USB-A Male to USB-C Female
To find out more about using your motion capture suit, visit the Perception Neuron website to read their Getting Started Guide.
You might also like