Hardware expert ⚡ VR/AR, Motion capture, 3D & Accessories
Recycling & Green E-Commerce 🍃
French company in Bordeaux 🌞
Perception Neuron 3 Glove Sensor Kit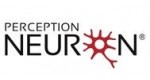 Product details
Features
Compatibility

Perception Neuron 3

Tracking system

Inertial
Neuron 3 Perception Gloves
The sensors for the Perception Neuron gloves are sold in pairs with 6 sensors. 3 sensors for each hand.
With specific locations on the thumb, index and middle finger.
Using their IK solver, users will see all 5 fingers move, even with only 3 sensors.
Their revolutionary design offers the most robust solution to date.
Hardware included in the neuron 3 perception glove kit