Hardware expert ⚡ VR/AR, Motion capture, 3D & Accessories
Recycling & Green E-Commerce 🍃
French company in Bordeaux 🌞
Illumetry IO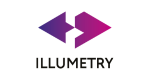 Product details
Features
Screen

LCD
TN cell

Resolution

1920 x 1080 pixels

Refresh rate

120 Hz

Weight

100 G

Dimensions

20.3×568×435.2 mm

Colours

Black
Illumetry IO - The ultra-reactive MotionParallax3D screen with lightweight Stereo glasses"
Discover the Illumetry IO, the most responsive motion parallax screen on the market. Equipped with the best Antiatency tracking system and proprietary video processing cards, Illumetry IO eliminates any latency in tracking the viewer's position and adjusting the image on the screen.
The key features of Illumetry IO:
Lightweight 3D glasses: Enjoy an interactive experience at the touch of a button with our custom-designed active 3D glasses. Featuring Antilatency tracking technology and an integrated battery, our glasses are so light you'll forget you're wearing them.
High-resolution screen: Unlike polarised screens which offer half the declared resolution, with Illumetry IO you get the full screen resolution. Available in two versions: Illumetry IO v.1.1 offers a resolution of 1920x1080 per eye on a 24-inch screen, while Illumetry IO v.2.0 (Q1-Q2 2023) offers a resolution of 2560x1440 per eye on a 27-inch screen.
Multiple interactive devices: Interact with a single stylet 6DoF or add more as required. The system supports an unlimited number of interactive devices.
Customised interactive devices: With Illumetry IO, create custom solutions for professional training. Design a custom interactive device for Illumetry IO using the Antilatency Socket reference design and Antilatency tracking.
Custom PC configuration : With Illumetry IO, there are no limitations on the configuration of your PC. Equip your Illumetry IO with a powerful PC and explore 3D scenes in great detail. Compatible with both Windows and Linux PCs.
User experience :
Illumetry IO offers a seamless transition between the real and the virtual, allowing you to examine a hologram from every angle as if it were a real object. Its XR glasses are designed to be light and safe, suitable for everyone, children and adults alike, and can be worn for long periods without discomfort.
What's more, Illumetry IO is developer-friendly. It integrates easily with any common 3D engine, such as Unity3D and Unreal Engine, allowing you to create your own interactive content.
3D glasses:
Viewing is done through active shutter XR glasses that are precisely tracked by the system to determine the user's position in space. The system then uses this tracking data to calculate a projection of the virtual world on the screen.
Interactive stylet 6DoF :
Illumetry IO is equipped with a stylet 6DoF for intuitive interaction with content in 3D space. The stylus contains an Antilatency tracker for instant tracking of even the smallest movements. The system supports 2 or more styli in front of the screen to take user interaction to the next level.
Illumetry IO introduces a new holographic display for unprecedented extended reality.
From education to entertainment, the XR is revolutionising the world's biggest industries and we are contributing to this transformation with our solution.
As responsive as reality itself
Illumetry IO features a holographic screen that allows a hologram to be viewed from all sides just like a real object. The stability of the virtual content is guaranteed, even in the event of sudden movements.
Seamless transition from real to virtual
Using Illumetry IO is intuitively familiar and doesn't exclude you from the real world. The holographic display lets you explore virtual content while keeping in touch with the people around you.
Lightweight and powerful
Easily connect lightweight, wireless glasses 
Illumetry to a PC and explore virtual content with the highest level of detail. Enjoy the quality of powerful GPUs with comfortable XR glasses that won't tire you out.
Comfortable for everyone
Illumetry XR glasses are designed for a lightweight feel. Lightweight and safe, they are ideal for children and adults and can be worn for long periods without discomfort.
User-friendly for developers
Illumetry IO is essentially geared towards developers. It integrates with all popular 3D engines, such as Unity3D and Unreal Engine, so you can easily create your own interactive content.