Hardware expert ⚡ VR/AR, Motion capture, 3D & Accessories
Recycling & Green E-Commerce 🍃
French company in Bordeaux 🌞
B-Safe Solo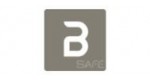 Product details
Decontamination box for VR helmets and their controllers
B-Safe is a product designed and manufactured in France by the company Tailor Advice. This UV-C light decontamination box allows to treat a VR helmet and its controllers.
Technical characteristics
A 4-line LCD display
The B-Safe decontamination box displays the remaining time and alerts.
Two languages available: French / English.
A fast USB & USB-C charger
You can recharge an equipment during the disinfection or storage phase.
An NFC reader
Access to the machine's operation controlled by badge.
Sound alerts
At the end of a cycle a beep is emitted to inform the user that the equipment is available.
White ambient lighting
When the door is opened, a small light makes it easier to pick up and put down products.
A door opening safety sensor
This protects the user from UV radiation. After interruption it is possible to resume the cycle for 1 minute.
A keyed opening handle
The material is secured during disinfection and storage.
Smoked transparent door in PMMA
This allows the product to be seen but does not let the UV-C radiation through.
Mirrored interior linings
This maximises and optimises disinfection.
Customisable cladding
Allows for better integration into your environment.