Hardware expert ⚡ VR/AR, Motion capture, 3D & Accessories
Recycling & Green E-Commerce 🍃
French company in Bordeaux 🌞
TouchDIVER - WEART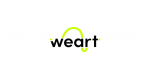 Product details
General
Brand

Weart

Reference

F002/13732
Stop clicking, start grabbing
WEART bridges the digital and physical worlds by adding the one missing sense: TOUCH. Have a truly immersive VR experience and touch digital objects as you would in real life.
Think of any VR / AR experience - training sessions, digital retail experiences, virtual exhibitions or collaborative design workshops. Now wear your TouchDIVER, put on your favourite VR headset and start interacting with the virtual world.
Haptic feedback
Forces, vibrations and thermal cues are combined to achieve a level of realism never before found in any haptic technology, as all our customers agree.
Finger tracking and digital hand model
The user's finger tracking is achieved through our new patent-pending technology built into the device. This technology is coupled with a digital model of the human hand, included in our SDK