Hardware expert ⚡ VR/AR, Motion capture, 3D & Accessories
Recycling & Green E-Commerce 🍃
French company in Bordeaux 🌞
zSpace Original Edition - Laptop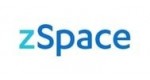 Product details
General
Brand

zSpace

Reference

F003/11628

In stock

2 items

Condition

New product
The zSpace laptop combines virtual and augmented reality to create realistic experiences that spark curiosity, engage and deepen understanding.
Freedom to move and interact
The zSpace laptop has built-in motion tracking. These sensors track your stylus and zSpace glasses. When you tilt your head to look around an object, zSpace dynamically updates to display the correct perspective in high definition.
Lightweight and stylish glasses
From the metal frame of the Tracked Glasses, to the lightweight form of the Follower Glasses for tracking immersion, zSpace glasses are essential but unobtrusive. The Tracked Glasses provide the full experience, while the Follower Glasses allow another person to participate in the experience.
Familiar Interactions
The zSpace stylus is held like a pen. With 6 degrees of freedom, users can rotate their wrist naturally when picking up and examining objects. The pen's buttons perform different actions depending on which application is open. Outside of zSpace use, users can use their mouse for other Windows applications.
A computer with the latest AR/VR technology
As a hardware and software solution, zSpace enables exceptional immersive and interactive experiences by integrating the latest augmented reality and virtual reality (AR/VR) technologies into an all-in-one laptop.