Hardware expert ⚡ VR/AR, Motion capture, 3D & Accessories
Recycling & Green E-Commerce 🍃
French company in Bordeaux 🌞
Smarttack 3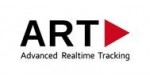 Product details
General
Brand

ART

Reference

F005/12101

In stock

1 item
Features
Resolution

1280 x 1024 pixels

PC connections

1 x USB 2.0 (e.g. Radio Transceiver2/3, service access)

Weight

1.5 kg

Puissance consommée

12W

Dimensions

381 x 54 x 93 mm
Plug & play tracking solution for small volumes
Two tracking cameras and the controller are fully integrated in one housing. On delivery, the SMARTTRACK3 is pre-calibrated and can be used immediately. This and its compact size make the SMARTTRACK3 the ideal mobile tracking system, ready for use*.
Using the SMARTTRACK3 is as easy as 1 - 2 - 3 :
turn it on
calibrate the bodies to be used and adjust the SMARTTRACK's coordinate system to the application's coordinate system (if necessary)
start tracking

Typical applications are for example
tracking the position of the head inside a moving vehicle
Reviewing engineering or design at a workstation
Training personnel in front of stereo TVs or with head-mounted displays.
The SMARTTRACK3's increased performance and robustness allows for new and more demanding applications, such as simulators or use in moving vehicles for applications such as driver observation system validation.
It is ideal for head tracking or for use with an interaction device. In order to work in active stereo applications with SMARTTRACK3, it is possible to establish external synchronisation.
*Additional 3D application software or drivers may be applicable for special uses, e.g. HMD, car tracking."
The SMARTTRACK3 in a nutshell:
already pre-calibrated - just plug & play
lightweight system - easily transportable
accurate in small tracking areas up to 2x2 metres
cascadable - combine two SMARTTRACK3s to increase track volume
small but fast - up to 240 Hz, and low latency < 10ms
outdoor work - variant (SMARTTRACK3/IF) available, with special filters for work in sunny areas
You might also like