Hardware expert ⚡ VR/AR, Motion capture, 3D & Accessories
Recycling & Green E-Commerce 🍃
French company in Bordeaux 🌞
Pico 4 Enterprise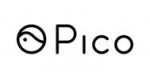 Product details
General
Brand

Pico

Reference

F004/13963

In stock

1 item
Features
Field of view (FOV)

105°

Processor

Qualcomm Snapdragon XR2

Memory (RAM)

8 GB

Operating time (battery)

3 hours

Eye Tracking Technology

Inside-Out 6DoF avec 5 caméras intégrées

Battery

5300 mAh

Connections

USB-C

Weight

295 grams without headband and 586 with headband

Material

Plastic

Operating system

Pico & Android OS

Display

2x LCD displays
Information on the Pico 4 Enterprise
The Pico 4 Enterprise headset is a 6DoF technology from Chinese manufacturer Pico, supported by its ByteDance group. The first PICO headset with precise face, eye and hand tracking, supported by two infrared cameras. The Pico 4 Enterprise VR headset is the sequel to the popular Pico Neo 3 Pro VR headset. The Pico 4 Enterprise is a standalone 6DOF VR headset with a 4K+ display. The Pancake lens was the first lens included in the Pico headset and offers exceptional display quality compared to the Pico Neo 3 headset, while allowing for a significantly thinner and lighter form factor. It is ideal for interactive training, hospitality and simulation. Sideloading, a different App Store, face and eye tracking, as well as Pico Business Suite and PU face protection set the Pico 4 Enterprise apart from the Pico 4.
The virtual reality headset for professionals!
The PICO Headset range is known for its flexibility of administration within the standalone VR headset ranges. The next generation all-in-one VR headset that helps businesses unleash their potential and drive growth and productivity. A perfect solution for healthcare professionals and educators... 
The next generation VR headset
The PICO 4 Enterprise headset offers an increasingly immersive and interactive virtual reality (VR) experience that enables connections for businesses, wherever they operate. In addition, the headset includes support for automatic fine-tuning of the IPD (online progress dimension), which automatically adjusts to users' inter-pupillary distances.
The PICO 4 Enterprise controller is equipped with a rotating arc column and an infrared sensor. Ergonomic and highly reliable, the controller increases protection through hit detection and spatial orientation. The PICO controllers also support 6DoF functionality, giving users greater ease of movement in virtual environments, and the HyperSense broadband engine for more realistic haptic feedback.
Unparalleled Video Rendering
The four built-in SLAM cameras allow for high-precision tracking and mapping of nearby environments. The front panel houses a high-performance 16MP RGB camera that brings to life a display with high colour saturation, covering 85% of the NTSC colour gamut and 100% of the RGB colour gamut. The PICO 4 Enterprise is powered by a Qualcomm Snapdragon® XR2 chip, which delivers state-of-the-art display and graphics processing. It also boasts unparalleled video performance with a 90Hz refresh rate, 4K+ display and 105-degree field of view, and 1200 PPI.

Long battery life

The PICO 4 Enterprise is equipped with a high-capacity 5,300 mAh battery that provides up to three hours of use. It also offers fast charging capabilities.

A headset with comfort and ergonomics

The PICO 4 Enterprise offers superior comfort and efficiency compared to the Pico 4, and is designed for professionals. Lightweight and compact, weighing just 300g including battery and straps, the headset is a technology powerhouse for the corporate world. Such lightness is possible thanks to the Pancake lenses, which are small and light, reducing the thickness of the case to only 35.8mm at the thinnest part.

Made of adjustable straps and equipped with a double PU foam mask, easy to wash from all sides and also quick to remove thanks to its magnetic clips. The waterproof PU mask is detachable and can be changed, disinfected or replaced. Also, the anti-slip PU leather on the back of the helmet provides even more comfort and precision. The ergonomic design of the headset also allows for the use of an eyeglass spacer so that all users can immerse themselves in VR worlds without compromising on comfort or sharpness.



Wireless streaming
PICO Business Suite meets the needs of enterprises and independent software vendors for customised solutions. The system's features include synchronisation, streaming and kiosk mode, allowing multiple VR devices to connect while enabling live streaming and smoother viewing.
With a dedicated Enterprise App Store, developer kits, and special enterprise settings, PICO 4 Enterprise users have greater flexibility to integrate the headset into their business operations.